This post isn't so much about media representations as the ongoing consequences of negative representations of race. Many today will argue that we no longer live in a racist society; Britain has moved on. There may be some truth in that, but clearly the UK hasn't become an utterly idyllic society, as
the following example
sharply demonstrates - one taken from a West Yorkshire town...
'If you are allergic to black people, don't come in' – at first I balked …

Cafe owner Martha-Renee Kolleh's defiant response to insidious racism is preferable to constantly doubting your own experience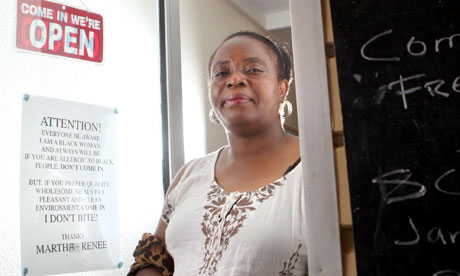 Martha-Renee Kolleh, who owns a cafe in the town of Ossett, Yorkshire, has put up a sign telling customers she is black because she is fed up with people walking out when they see the colour of her skin. Photograph: Gabriel Szabo/Guzelian
Increasingly in today's Britain, the word racism conjures up two very differing images for white and black people (I use black here in the political sense). When I explain to white friends that certain things that I have had said or done to me are racist, it is more often that not met with incredulity. How can that be racist?